About Us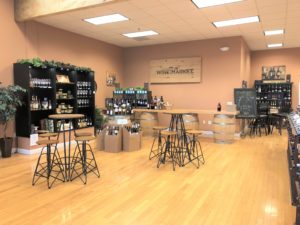 Our focus is to enable guests to Explore. Experience. and Enjoy! wine. We provide an unintimidating wine market, with knowledgeable staff offering a large selection of quality wines fairly priced along with an eclectic selection of craft beers. Our goal is to help educate intrigued newcomers to wine and provide information and education for knowledge seeking consumers in an unpretentious environment, Discerning, experienced wine buyers will appreciate an extensive selection of premium wines.
Saturday Wine & Craft Beer Tastings
We invite you to join us each Saturday 1pm-4pm for our complimentary tasting
featuring 12 wines and 4 craft beer selections.
Tasting Selections for Saturday, May 25th
Station I:  Nate with Winebow
Braii Cabernet, South Africa
Castellare Chianti, Italy
Suavia Soave, Italy
Madfish Sauvignon Blanc-Semillon, Australia
Villa Wolf Rose, Germany
Tramin Chardonnay, Italy
Station II:  Jason with Ararat 
Alliance Vinho-Verde, Portugal
Della Scala Pinot Grigio, Italy
Big Guy Red, Napa Valley
Estampa Cabernet Sauvignon-Petite Verdot, Chile
Carmenet Chardonnay, Chile
Andean Malbec, Argentina
Station III:  Craft Beer
Appalachian Brewing Company, Margarita Gose
Lost Coast, Tangerine Wheat
Catawba, White Zombie
Saranac, Smores Porter